Engineering, Repair & Maintenance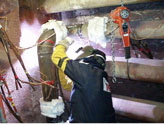 TEi has extensive experience in plant repair and manufacture in the energy, process and manufacturing industries:
Maintenance agreements on a term or call-out basis
Management of other associated trades
Key spares purchasing and stock holding
Overhauls & Shutdowns:
TEi has, through many years, built up a reputation for the successful completion of overhaul and shutdown work on energy and process plants:
Active partnering with clients to achieve minimum downtime and achieve key dates
Detailed pre-shutdown planning
Management of own direct labour and sub-contractors
TEi has carried out major outages for International and domestic Clients such as BP (Hull), Esso (Southampton), Sita, RWE, Scottish & Southern, Texaco, ConocoPhillips, BASF, Alcan Smelting, EPR, Drax (Ferrybridge) and WRG.
Staff and Labour:
The unique strength of TEi comes from the enthusiasm, dedication and commitment of all employees, many who have continuous employment for over 20 years.
TEi managers, engineers, supervision and direct labour are a well trained group who have a wealth of specialist knowledge, gained by experience and continuous training.
We provide a 24 hour response to many of our clients to cover all unplanned outages using our highly skilled emergency repair team.
---
BURNING BIO-FUELS AT FERRYBRIDGE – CASE STUDY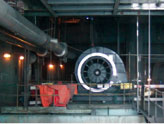 TEi EXPERTISE
The contract, included detailed mechanical design, supply, installation and fabrication of the following:
6 TPS BioSwirl™ wood firing burners per boiler
Primary air fans and ductwork
Secondary air fans and ductwork
Transport air blowers & fuel transport systems
FGR and ductwork from stacks
Drax BDS Project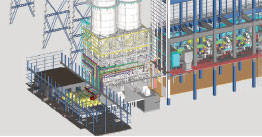 Drax Power Ltd commissioned Shepherd Construction Ltd to act as main contractor to convert three of its six 660MW coal fired boiler units at Drax Power Station near Selby. TEi were engaged by SCL to install the necessary process equipment and piping systems to enable 100% biomass firing.
The Project required the following:
Removal of the 30 existing coal feeders.
Installation of 31 compressors to supply motive air to the fuel transport system, complete with stand by arrangement.
Design, manufacture and installation of 2km of transport airpipe (150mm and 200mm nominal bore) from the compressors to the intermediate storage silo mixing chambers.
The design included pressure containment calculations, a full flexibility study including 3D modelling of the system, along with design of the pipe support system to allow for the thermal and operational movements within the piping system.
Installation of approx. 8km of product delivery pipework from the intermediate storage silos where it becomes entrained with the product which then delivers the biomass to the filter receiver units.
Installation of the Filter receiver units at the feeder floor complete with all secondary steelwork, associated supports and vent pipework.
INEOS NITRILES-SEAL SANDS, TEESSIDE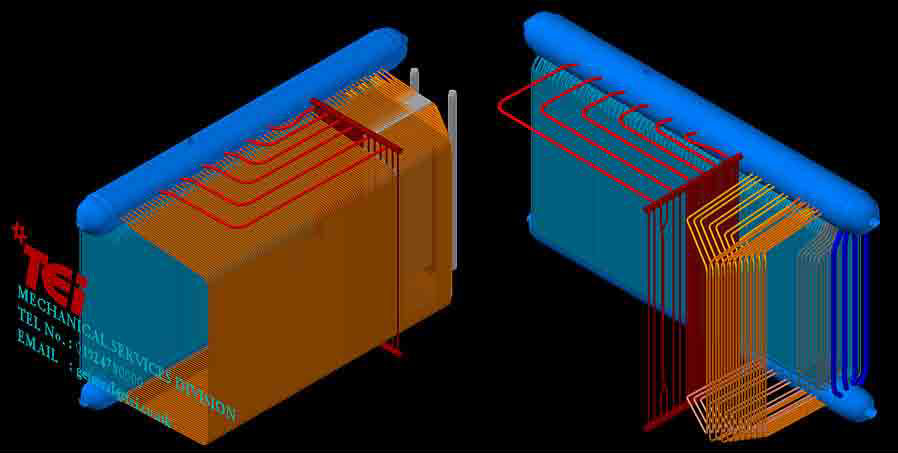 Boiler Three Re-furbishment-2013
As a specialist contractor TEi were tasked with project managing the refurbishment of no.3 boiler including the management of all sub contractors.
TEi were the Principal Contractor for the project to satisfy the CDM regulations 2007.
Scope
Remove and Replace the boiler pressure part systems:
Convection bank tubing
Furnace D-Tubes Side wall
Furnace D-Tubes Rear wall
Superheater Protection wall complete with headers
High pressure Feed-water pipework
Process valves and pipework to Steam/Air/Condensate system
Supply design & install Expansion joint to Gas outlet ducting to economiser
Boiler casings and expansion joint
Compile and submit Hot & Cold Boiler survey
Manage & co-ordinate all Sub-contractors for the project:
Refractory
Insulation
Shot blasting & Painting
NDT Inspection
Mechanical contractors for Client
Contract Programme
Total project – 44 weeks
Off-site fabrication and preparation – 20 weeks
Site duration – 24 weeks
Mechanical works – 19 weeks
Testing and commissioning – 5 weeks
Approximate man-hours 44,000
Mechanical Work
Convection Bank
1441 tubes at 8m expanded into steam and mud drum – 2882, 3 stage expansions
3732 metres of membrane wall seam welding
20 welds – 100% x-ray
Furnace D-tubes – Side WaII
120 tubes at 14m – 240, 3 stage expansions
5760 metres of membrane wall seam welding
360 welds – 100% x-ray
Furnace D-tubes – Rear Wall
44 tubes at 14 metres – 88, 3 stage expansions
2464 metres of membrane wall seam welding
176 welds – 100% x-ray
Fabrication of superheater protection wall header
76 welds 8 inch and 2 inch diameter – 100% x-ray
864 metres of membrane wall seam welding
2.7 tonnes installed
Fabrication and installation of HP steam pipe
24 – 6 inch diameter welds c/s and s/s -100% x-ray