Mechanical & Thermal Design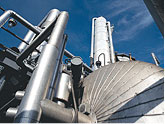 TECHNICAL SERVICES DIVISION
TEi Technical Services Division originates from the Design and Engineering office of Foster Wheeler Power Products Limited purchased by our former owner Senior Engineering Plc from Foster Wheeler in 1988. This Division of TEi Ltd provides design, engineering, commissioning and consultancy to a broad range of external customers and other TEi Companies and Divisions.
REAL EXPERTISE
TSD engineering expertise was originally founded upon the product and service ranges of FWPP but has developed in recent years to include greater coverage of the systems and processes associated with steam plant in general.
The Wakefield and Rochester offices are certified to ISO 9001 and have the staff and technology to provide engineering services utilising standards and computer software developed over many years.
These include computer modelling of thermal and mechanical design, in addition to many in-house developed programmes for performance (combustion, heat transfer, fluid dynamics, etc).
CONSULTANCY SERVICES
Computer modelling of thermal and mechanical design
Condition and remnant life assessment
Control system upgrade
Plant commissioning
Operator training and O&M manual preparation
Fuel conversion studies
Service life prolongation
Pipe stressing
Expert witness services
Emission studies
Performance monitoring
Spares supply
PLANT UPGRADING
Pressure part analysis often shows the need to update the superheater or other components which result in a prolonged more economic life. Improving efficiency can be achieved by incorporating extra economiser surface, an air heater and by lowering excess air.
Cycle modifications can incorporate feed heating and topping cycles through to a total CHP retrofit.
FUEL CONVERSION
Your existing plant can probably be converted to burn COAL, OIL, GAS, low CV or Waste Fuels. All associated storage, handling, operation and maintenance requirements can be incorporated in scheme proposals.
Boilers currently burning fossil fuels can have Gas Turbine Exhaust Gas or Process Waste Gas burning or Heat Recovery facilities added to reduce running costs. In fact, TEi Technical Services Division will add FUEL FLEXIBILITY to any boiler, allowing greater peace of mind for boiler plant operation.
---
More Information: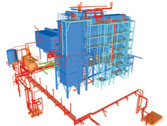 UNIQUE SYSTEMS:
Carry out process and system design including heat / mass balances.
Work with preparation of P & ID's and PFD's etc.
Carry out component design and engineering, including pipework code and structural design utilising AUTOCAD work stations to produce detail drawings and pipework isometrics with material / equipment schedules.
We have a team of experienced commissioning and test engineers to provide operational services including problem solving, emission monitoring, efficiency testing, operator training and the production of related manuals.
Proprietary software includes: STAAD/PRO QSE (structural frames) and PSA5 (Whessoe pipe stressing programme for ANSI B31.1,3,4. BSEN 13480 and BS806)
Familiar with pressure vessel, pipework and boiler pressure part codes including ASME, LR, ABS, RINA, Bureau Veritas, Det Norske Veritas, Ansi and EN/BS. We have also supplied engineering studies using NFPA, Gas Council and H&S Executive Guidance notes.
Familiar with HAZOP procedures, having contributed to reviews on various contracts into our design and engineering review.
Provide supporting documentation for PED requirements.
DESIGN & DETAILED ENGINEERING
Design studies and engineering for plant upgrading, fuel conversion and problem solving include the production of comprehensive reports, complete with project programmes and budget estimates.
Detailed manufacturing drawings and mechanical design, including pipework (CMV and steam) design, can also be provided. Any problems regarding plant operation, maintenance or performance can be quickly solved using our extensive experience and Technical Information Database built up through TEi Technical Services Division.