Careers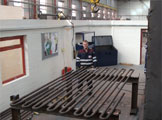 We are an in-scope company to the ECITB who provide current industry standard training to all our employees at all levels.
Each year we recruit apprentices in conjunction with ECITB (Engineering Construction Industry Training Board) and they successfully complete the NVQ level 3 in a variety of trades.
The company has strong links within the community including the local schools, including participation at careers events. TEI is committed to raising the profile of engineering to ensure it's success in the future.
The company is also committed to the competence of out workforce and ensure that all craftsmen complete the ACE (Assuring Competence in Engineering) scheme. This involves assessments by external organisations to attain the NVQ level 3.
TEi now has a new training facility for pipefitters, erectors and mechanical fitters, adjacent to the long established welder training facility in their works in Wakefield. This new facility will ensure that TEi provide the best training available, enabling the company to promote and recruit the engineers of the future.
Our Training and Development Manager said "The UK needs skilled craftsmen to keep us globally competitive, and prepared for the challenges of the future. The welders, pipefitters and erectors trained at TEi will be the people making sustainable energy a reality, responding to climate change, and developing new ways to improve power station efficiency, for example. Our training centre will ensure that TEi continues to provide the best training available, to recruit and support the engineers of the future."
TEI recruit Graduate Engineers every year, placing them within each of our business areas in order to provide a wide range of experience and skills to develop them into the future of the company and the Engineering Industry. Our graduate training scheme has been accredited by IMECHE.
TEI recruit experienced engineering contract personnel throughout the year for work on various installations across the UK and overseas.
If you are interested in vacancies within TEI please complete our application form and the relevant trade specific questionnaire and return them to our Head Office in Wakefield.
You can also send your details and CV directly to the Labour Resources Department via email
For further information contact Labour Resources on (01924) 780000.