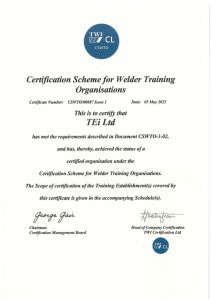 We are pleased to announce that we have successfully gained certification under TWI Certification Ltd.'s Certification Scheme for Welding Training Organisations (CSWTO) and are now a CSWTO Approved organisation.
As a CSWTO Approved organisation we have demonstrated that our equipment, facilities and personnel are competent and qualified to meet industry requirements. This provides assurance to current and future students that the learning they undertake at TEi Ltd has been assessed by an independent third party and deemed to meet the high standards of the CSWTO scheme.
TEi will use this to ensure all welders meet the exact high industry standards required in the ever changing & challenging markets.
For any welder training & testing requirements, please don't hesitate to contact TEi