Welding Development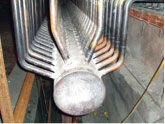 TEi maintain a close awareness of future developments throughout the whole of its industry sectors enabling the company to provide welding solutions as new alloys or processes are developed.
Using the on-site training school and working closely with the metallurgical laboratory the company's welding engineers are able to develop and fast-track welding procedures to suit project requirements or to cater for specialist applications.
TEi's technical support staff are able to advise and provide practical welding solutions to most repair situations within its industry sectors. The risks are assessed and method statements provided together with welding guidelines to meet with the applicable code requirements. TEi have the welding expertise on-hand and can provide qualified welders to cater for most situations.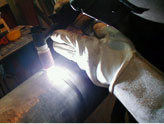 WELDING EXPERTISE
TEi have established a pre-qualified welding procedure library to suit most welding requirements that arise and for virtually all alloy combinations that are found in the industrial, generation and petrochemical industries. Most procedures are dual certified to ASME IX and BS EN ISO 15614-1 and include:
Carbon and carbon manganese steels
Low alloy creep resisting steel family
Austenitic and ferritic stainless steels
Martensitic, duplex and superduplex stainless steels
High temperature alloys
Nickel alloys
Cast iron, hardfacing, dissimilar welding and other repair and maintenance areas
TEi also offers welding procedure specification development for clients and has produced DNVGL/NACE compliant procedures for both the marine and offshore industries.
Specialised areas in welding include:
Orbital TIG
Inconel overlay (MIG overlay repair and maintenance)
Temperbead welding
Stud welding
TEi's welders undergo training and testing in TEi's in-house Welder Training School to cater for our core business areas. Welders are capable in the following processes:
GTAW – tungsten inert gas welding
MMAW – manual metallic arc welding
SAW – submerged arc welding
OFW – oxyfuel gas welding
GMAW – gas metal arc welding (MIG/MAG)
FCAW – flux core arc welding
Welders are dual certified to ASME IX and BS EN ISO 9606-1. The TEi training facility is also available to interested external clients.
To get it right first time our welders are trained in-house for specialised welding requirements prior to job start.