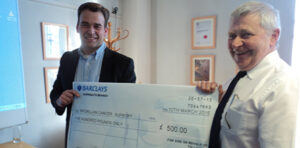 In recognition of its services to TEI, delivering hand safety talks in support of its hand safety campaign, TraffiGlove has been presented with a donation of £500 to TraffiGlove's chosen charity, Macmillan Cancer Support.
Having reviewed its performance throughout 2013, TEI found that 38% of all accidents resulted in injury to hands. As such, it was felt that a more robust approach to hand safety needed to be put in to place – TraffiGlove was integral to this, delivering hand safety talks and advice to 108 staff at TEI's head office in Wakefield and further operational sites in Selby, Hull and Immingham.
The Safety Group including advisors and reps (craftsmen) discussed the results of the 2013 review and agreed that the annual safety campaign 2014/15 should focus on hand safety. Targets for the year included briefings, questionnaires with feedback to all engineering staff, a hand safety video and a guest speaker talk.

TraffiGlove stepped up to the plate, addressing 108 employees in one day over four operational sites in order to help address the importance of hand safety and the use of appropriate gloves. In thanks for the time invested by TraffiGlove, TEi Ltd donated £500 to TraffiGlove's charity of choice; Macmillan Cancer Support.
Find the full story at blog.traffiglove.com/traffiglove-makes-a-difference-macmillan-cancer-support